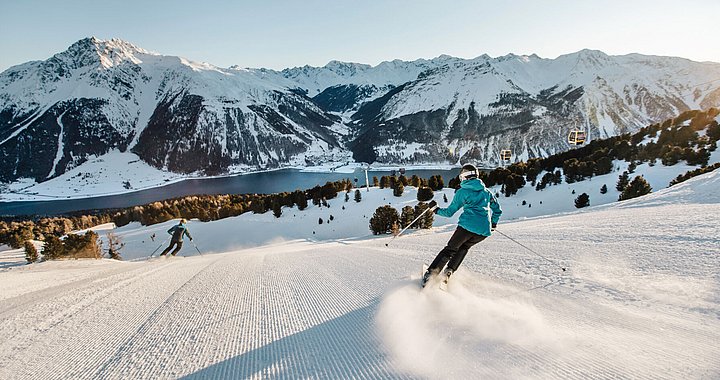 Skiing – fun without limits
The ski area Belpiano-Malga die San Valentino offers shimmering views for all snow lovers on 65 kilometres of slopes for beginners and experienced skiers, 15 lifts and a snow park. Those who cannot get enough of the white pleasure can purchase a ticket for the Two-Country Ski Arena including fun on the slopes of the ski resorts of Nauders, Watles, Sulden and Trafoi.
Lake Reschen in summer and winter
Our privileged setting at Lake Reschen does not only boast magnificent views at all times of the year, but also endless opportunities for your outdoor experiences. From comfortable walks on the shore, idyllic boat trips, bike tours to adrenaline-packed adventures like kite surfing, downhill rides and snow kiting.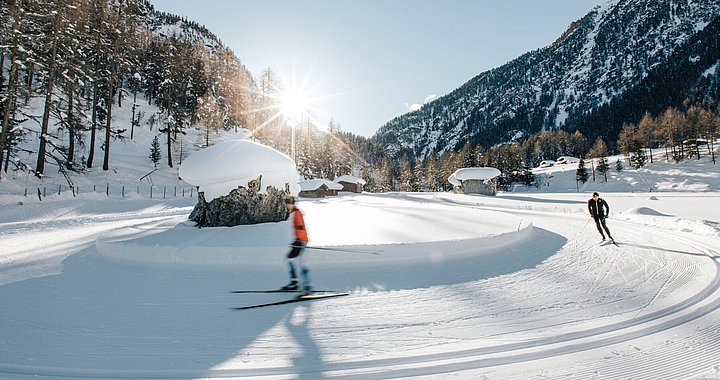 Active Winter
You cannot experience more. As between mountains and lakes there will be no dull moment. Leisurely trips or challenging tours. You can discover breath-taking scenery and the tranquillity of nature on your winter trips. Ski touring and snow-shoe hikes in the deep snow. Or gliding through the white with your cross-country skis. Tobogganing fun during day or night. Ice-skating on the Haiderseee. The region of Lake Reschen provides for cool experiences suiting every taste.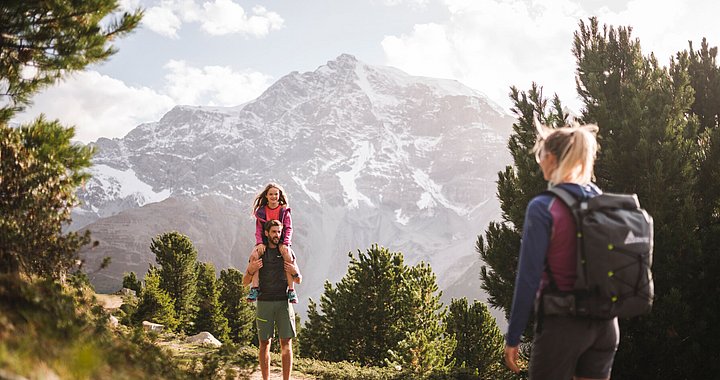 Wanderlust
A leisurely lakeside walk around the Reschensee can be just as satisfying as a challenging mountain tour. And at Lacumontes you can experience both – or everything in between. 200 kilometres of sign-posted hiking paths meandering through forests and pastures, along riverbanks and lakes to the huts and mountain tops. We've got what you want!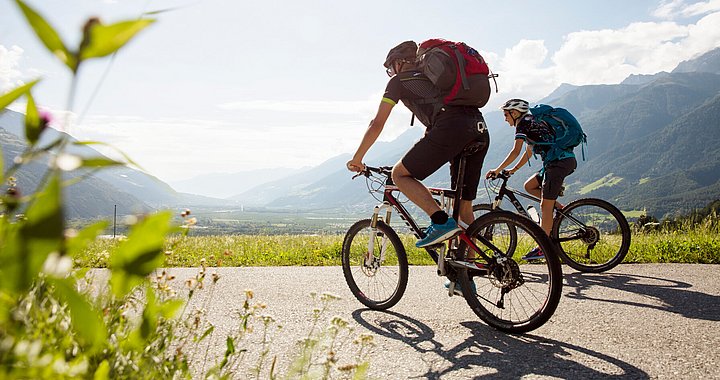 Thrilling rides
Hit the tracks of the Adige Cycle Path admiring the landscape of Val Venosta or increase your heart rate and make your calves burn on a tour to one of the Alpine huts or mountain peaks. Single trails and flow trails provide for adrenaline-packed happiness. You choose how high, how far and how daring your bike experience will be.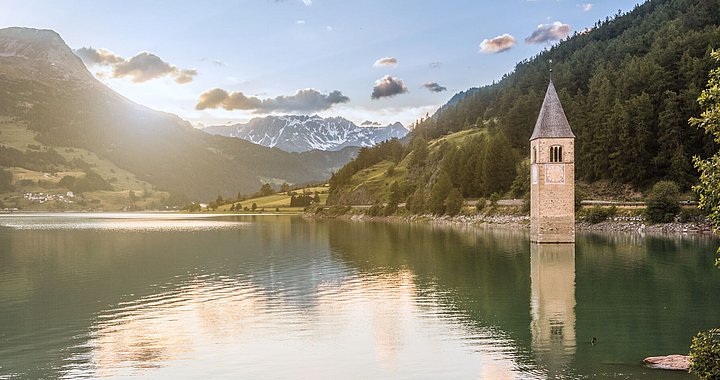 Summer Days
Active or relaxed. You write the bucket list for your holidays. A run around Lago die Resia. Kitesurfing in the stiff winds. Swimming in the crystal-clear mountain lake or a relaxed fishing trip. Finding out about the history of the lake and the village of Graun during a boat trip. Lacumontes is the perfect launchpad for your experiences. Adventures are waiting just around the corner. You just need to explore them!